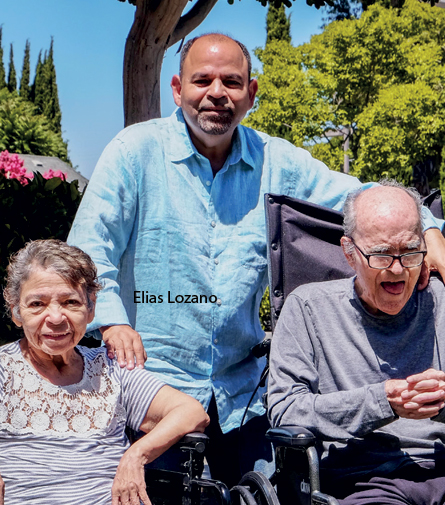 Elias Lozano, CEO
The pervasiveness of information technology and smart devices has made its way into the healthcare industry as well. Medical professionals and facilities, who want to improve their patients' quality of care while decreasing the overall cost, need look no further. Esvyda is a complete telehealth and remote patient monitoring solution that is setting a new benchmark for providers and patients by introducing a novel way for healthcare delivery reimbursement. The solution allows caregivers, clinicians and pharmacies to listen to their patient's needs and view critical information such as vital signs (from any FDA-approved BLE devices and/or wearables including our own), lifestyle indicators and medication thus enabling them to follow-up patient's care plan adherence and progress. Esvyda has focused on the general population but also targets specific segments of the underserved population including a large portion of the Hispanic population and their technology is combined with a full bilingual Lifestyle Coach who proactively engages patients in treatments, without disrupting their daily activities, helping them to achieve goals set up by their providers, influencing positive lifestyle changes. Esvyda also provides a call center for providers/care givers that need the 24/7 support in their care coordination.
In an interview with CIO Applications, Elias Lozano, CEO of Esvyda, sheds his insights about recent trends and challenges in the digital healthcare landscape and how their solution address some of the longstanding predicaments. Elias Lozano is a highly motivated technical business leader and entrepreneur focusing on IT technology development, both in software and system architecture generation.
What led to the conception of Esvyda?
My personal experience with my mother who was suffering from bipolar disorder inspired me to develop a solution that tracks vital signs, lifestyle, and medication. Because of the complications associated with the condition, my mother would often make mistakes in her medicine dosage, which was difficult to monitor at that time. In 2011, I was looking for a different direction in my professional career and I developed a solution that could efficiently track my parents' mood, and medication. Soon, I decided to launch the solution commercially and started Esvyda. At the time, healthcare was a large but slow industry in terms of technology adoption, but the situation has changed substantially in recent times; patients and care providers are responding positively to Telehealth (and Telemonitoring) and similar digital services. My team made several changes to the platform, and finally came up with a more comprehensive solution that performs a number of functions like monitoring, health checkups, billing, care-coordination, and interaction with the patients. Subsequently, the platform included billing features, the ability to view electronic medical charts, and connectivity to any medical device or wearable using BLE protocols. Recently we have added our own wearables to make more effective and personal the monitoring of the patients' care with the providers. In summary, we have modularized the platform in these sectors.
What are some of the challenges you see in the industry and how does your solution address the same?
One of the most significant changes digital healthcare has undergone is the payment parity between telehealth and In-person care.
Before the corona virus outbreak, getting reimbursed for telehealth services was tricky. The claim reimbursement model which was based on a CPT code was not effective back then. Low reimbursement for digital healthcare was viewed as a critical disincentive. However, the corona pandemic changed everything, especially for the patients accessing healthcare. Physicians cannot attend to the patients at their clinics anymore. This is where solutions like Esvyda step in and monitor the patients remotely without physically visiting the clinics. We use the wearables digital medical devices and integrate them with the solution. As we provide a solution that can be integrated in workflows between the caregiver and the patient, there is a more holistic approach to care. Thus, our solution enables caregivers to monitor the patients remotely and get reimbursed effectively.
As we provide a solution that can be integrated in workflows between the caregiver and the patient, there is a more holistic approach to caring
Tell us more about the features and functionalities of your solution
I understood that many doctors and medical groups are looking for a solution that is more efficient. Because of the flaws in the existing reimbursement model, they were hesitant to use video conferencing to interact with the patient let alone allow for a program to monitor patients remotely. We changed the traditional model of reimbursement and integrated our solution with the workflows. This transformed the interaction between the patient and the doctor and allowed caregivers, medical groups, clinics, and doctors to take advantage of the flawless revenue model that we built. The platform enables patients to schedule an appointment very quickly and access connectivity with BLE-supported Medical Devices and/or Wearables (including traditional manual-entry devices) very simply. Patients can interact with the care provider more effectively as we have built an easy-to-use user experience.
For instance, consider a care provider who stays at home and monitors a diabetic patient using a medical device that detects the glucose level, blood pressure, and weight. The wearable device accesses the information and feeds our platform with the same. The care provider can make a health assessment remotely based on such information. At the same time, the payers can make the payment for the health check-up initiated by the care provider. The doctors and care providers can monitor more patients remotely and get paid easily with our solution.
As we are implementing a workflow that reduces patient readmission rates, payers will have to provide higher incentives and bonuses at the end of the year. Essentially, we are implementing a workflow that reduces readmission rates by monitoring the patients through our solution.
Our solution adheres strictly to the compliant practices in the country and is HIPAA compliant. As we continue to enable underserved populations to access our platform including a great majority of our Hispanic Population, we have also undergone a certification process. Our security is top-notch, and we secure our Patients' data through a multi-level authentication processes. This includes email verification and text message verification through mobile phones.
We connect with EHR service providers to push and pull the patient information. Through this we access information including vital signs, physical activity, nutrition, and more. For instance, in the case of Athena Health, we have built an API that sits in the backend of their platform. When the doctor opens the EHR, they can connect to our platform in the background. They are also able to pull the information of the patient, make a telehealth visit through video conference. The key aspect here is the interoperability between different data formats; the one that we provide, and the data format used by EHR.
What is Esvyda's future roadmap?
We are a technology company but slowly integrating clinical care where our customers are demanding it. Because of the 2016 Cures Act and its final ruling this year 2020, we are developing our own FHIR API that will enable sharing the PHI (Patient Health Information) that can be pulled from the existing EHR with the PGD (Patient Generated Data) coming from our cloud based data and SODH (Social Determinants of Health) provided by our surveys and population management/care coordination modules. This enablement of data will be easily available securely to the providers and patients through our own blockchain-driven authentication process to make a quick health care coordination assessment anywhere and anytime. Our goal is to be at the forefront of the consumerism of healthcare by providing easy access to this data securely, remotely and 24/7 for best care of patients.
We are growing our sales resulting in a lot more users, clinics, medical groups, healthcare systems and more. We are providing easy configurability in their workflow to scale the usability. We are also implementing predictive analytics that enables care providers to make quick decisions using AI algorithms. Our goal is to enable doctors to make quick decisions about the medical conditions of their patients. We are continuously moving forward, improving to meet solutions for our customers and work hard to develop the most trustworthy solution for care of people, now and for the future ahead.