Created by caregivers for caregivers, Aloe Care Health is the world's first voice-activated, in-home system designed especially for remote caregiving. Aloe Care improves home safety, and makes communication and care collaboration intuitive and easy. The company recently received a 2020 Today's Caregiver Award, awarded to products and services designed with the best interest of the caregiver and care recipient in mind.
In addition to Aloe Care's patent-pending Smart Hub for live, two-way hands-free communication and built-in Smart Sensors for motion, air quality, and temperature; their new Essentials service, featuring contactless set-up, comes with a wearable Care Button. People who use the service have 24/7 access to support, including a professional emergency response team and a family app for optimal care collaboration.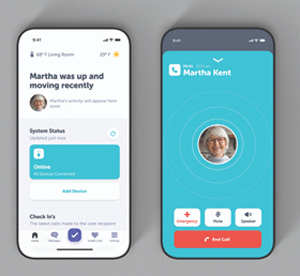 In a conversation with MD Tech Review, Ray Spoljaric, Co-Founder and CEO tells us why Aloe Care Health's technology does a better job of keeping older adults safe and connected to their caregivers. He also talks about how the need for a comprehensive solution like theirs is long overdue.
"We solve the critical challenges that independent older adults and their care teams have faced for too long," said Spoljaric. "By taking a comprehensive, 21st Century approach, we're making elders' homes safer and we're facilitating better ways to connect and collaborate on care. And with contactless set-up, Aloe Care Essentials meets the needs of our time with an accessible, effective safety net—effortlessly employed."
Aloe Care Essentials includes an in-home, voice-activated Smart Hub for secure, two-way, hands-free communication. It was designed for contactless set-up, meaning it needs only to be plugged in to start working. The 4G LTE Smart Hub (WiFi optional) also has built-in sensors for motion, air quality, and temperature. What's more, soon, Vitals monitoring tools (blood pressure, temperature, weight, etc.) can be added; notable for increased telehealth needs in the wake of COVID-19. Aloe Care includes 24/7 voice-activated access to a professional emergency response center and a Care Button for added peace of mind.
Aloe Care stands out too for its standard-setting secure family app (iPhone/Android). People on the app—those in the elders' circle of care—see real-time status updates informed by the Smart Sensors. No matter where they are located, with the tap of a button on the Aloe Care family app, caregivers can have two-way conversations with elders through the Smart Hub. That same app provides at-a-glance peace of mind for care teams.
The app - which can be used by both personal and professional caregivers with individualized access settings -- shows elders' home activity and environmental conditions, as well as see each others' check-ins and care notes. The Aloe Care family app is an unequaled utility for care teams.
Our advanced solutions keep independent older adults safer, and their caregiving teams more connected and collaborative
For people who need added support, Aloe Care Health's Total Care system includes everything mentioned above, as well as a voice-activated, automatic fall detection sensor for the bathroom and two supplemental motion sensors. Notice of unusual motion patterns, and air quality (VOC/CO2) or temperature fluctuations are identified by these sensors and displayed in the family app.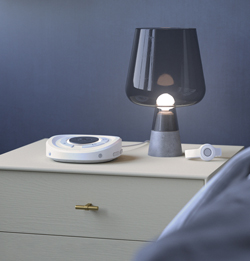 Client testimonial:
Lil, 87, started getting daily headaches. She was more tired than usual. It was time to call her doctor, likely leading to lots of annoying (and costly) tests. Concurrently, her son Barry installed Aloe Care Health in her home. Right away, Aloe Care Health flagged an air quality issue. Barry called the gas company, and their tests immediately revealed that her CO2 readings were nearly twice what they should've been. There was a small blockage in her gas fireplace requiring only a simple adjustment. Two days later, she was back to her old self.
Said Barry, "We had only had Aloe Care Health in Mom's home for two weeks, but it already paid off. This could have become a much more stressful ordeal. We're so grateful to have Aloe Care Health safeguarding our very independent mother!"
What differentiates Aloe Care Health?
Aloe Care's competitive advantage is achieved through superior product innovation, elder-first design and a comprehensive suite of features that meet the needs of our time.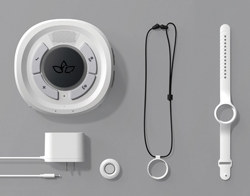 The state-of-the-art voice recognition built into Aloe Care's Smart Hub is a key differentiator. When the need arises, the ability to simply ask for help - and get it - can be transformative.
Equally valuable are the day-to-day communication and care collaboration features that only Aloe Care offers.
On the heels of its partnership with the Home Care Association of America (HCAOA), Aloe Care is available through numerous private duty home care strategic partners and personal emergency response distributors in the U.S. It is also sold directly to consumers.
What does the future hold for Aloe Care Health?
For most Americans, remaining in their homes as they age is a top priority. They also want to be safe and have an easy way to connect to their friends, family, and the professionals who support them. The people in that circle of care also need greater peace-of-mind about the well-being of their elders and better tools to collaborate with one another. We're proud to advance the state-of-the-art for elder home safety and care; it's long overdue.
For the future, we will continue to innovate, ensuring that we are at the fore of meeting the needs of elders and the people who care for them.