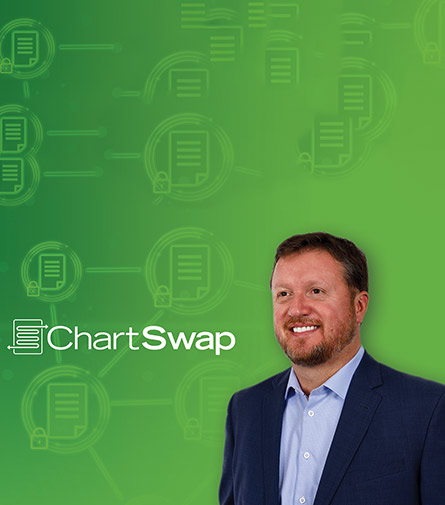 Darren Klauser, CEO
Records request fulfillment is still a daunting task for many provider. It requires a considerable amount of resources and time for sending medical and billing records. These records should be shared securely in a fully HIPAAcompliant environment. By digitalizing and automating the process, requests can be fulfilled in just minutes – eliminating the need for paper, printers, fax machines and snail mail and ending the endless status calls.
The request for information process is often lengthy and costly for both requesters and providers. ChartSwap, a nationwide Health Information Exchange (HIE), mitigates these challenges by automating record ordering, processing, and sharing that reduces cost and saves time for providers and requestors alike. Leveraging years of experience and the latest technology, the company accelerates the records exchange process. In an interview with MD Tech Review, Darren Klauser, Chief Executive Officer of ChartSwap, shares his insights on how their platform securely and quickly exchanges records and eliminates the risks associated with other methods of transmission such as unsecured faxes and emails.
Could you give us a brief overview of ChartSwap?
ChartSwap facilitates the fast and secure exchange of PHI, reducing time and cost on both sides of the process. After a patient receives treatment either for injury or ailment, the insurer needs to request the medical records to adjudicate the claim correctly. However, they often struggle to handle this information due to numerous privacy laws and HIPAA regulations.
Complex situations such as litigation and worker compensation due to negligence accidents, where attorneys are involved, further add to their plights. We provide a frictionless environment to handle the complexities of the request for information and medical records and make the process easier. We ensure these processes' execution is compliant with healthcare, HIPAA, state insurance regulations, and civil procedure rules.
How does your solution make the record fulfillment easy for the clients?
Most companies employ traditional methods, such as sophisticated call centers and back-end office environments, to maintain the latest information on accessing records – such as processing rules and regulations.
With ChartSwap, we allow HIPAAcompliant medical record transfer between registered users. The platform enables requesters of medical records to gain access to the medical records digitally from the providers – such as hospital networks, physician's offices, billing companies, and pharmacy locations in a completely frictionless environment without any involvement of call centers or back offices in the process. We sign up medical and billing records providers to accept records requests digitally.
This way, providers can easily send information securely and quickly through the platform.
ChartSwap also deals with payments collection, allowing providers to set and collect fees, and management of auditing –such as where records have flown to in the digital landscape, we help with managing those records properly.
We provide a frictionless environment to handle the complexities of fulfilling requests for information and medical records exchange and make the record management process easier, faster and more secure -Darren Klauser
What is the process that users follow to provide medical and billing records?
Hospitals receive numerous records requests throughout the day via fax, emails, and postal services from various locations. Most of the time, hospitals reject requests as they didn't trust the source or they are not allowed to share personal information via email as it violates HIPAA regulations.
Our digital platform effectively harvests and funnels these requests into a standard secure method and delivers them into a hospital network. This allows providers to effectively manage and synchronize the record requests and collect or manage payment fees as well. ChartSwap eliminates many manual tasks, such as entering records requests into the system, and automatically lines up the records in the hospital network.
The platform also enables requesters to check their application status and thus eliminate the need for continuous follow-up calls. Lastly, ChartSwap enables hospital networks to collect a fee for these requests from requesters through any medium – credit card via PayPal or by check.
Could you elaborate on the features and functionalities of the platform?
Our cloud-based platform allows hospitals and physician's offices to manually enter the applications and processes' status and digitally upload the records into the platform. The platform automatically notifies the requesters if the hospital needs more information or the application lacks essential information.
For instance, the requester may have patient authorization for a few records and not others. The hospital can interact with requesters through the platform and negotiate on the essential requirements.
Since ChartSwap has established a network of hospitals, billing providers, private practices and pharmacies, requesters can receive records easily, quickly and cost-effectively. The platform can be used on any device and is free for providers. At the same time, requesters can pay per service on the platform.
Could you describe a use case where your platform can help record providers?
In an automobile accident case, there are two parties involved. Both the parties file claim that will go to the insurer's claim management system. The insurer first seeks authorization from policy holders and then order records on ChartSwap to adjudicate the claim.
Suppose one person involved in the accident brings in the plaintiff, and the attorney orders record such as hospitalization billing on behalf of the patient. The plaintiff can easily access medical and billing records on ChartSwap and can size up their case. Even the defense counsel can order records through the same mechanism. In essence, the platform provides a network of thousands of record providers and requestors, for faster and HIPAA-secure record exchange.
What does the future look like for the ChartSwap?
We are currently focusing on streamlining the exchange process of medical records. We plan to add a series of value-added services, such as utilizing AI to evaluate the medical records and summarize them for consumers. For instance, if a claim adjuster or law firm wants to understand the medical record content, they need independent medical facilities or nurse practitioners to summarize those.
By summarizing these medical records, we will eliminate medical practitioners' dependency on summarization and provide better value propositions beyond the seamless digital movement of medical records. We strive to become the best medical records management solution for records exchange, request of information, claims intelligence and record analytics. We focus on growing through acquisition strategies and making our platform faster while maintaining the highest level of security possible.