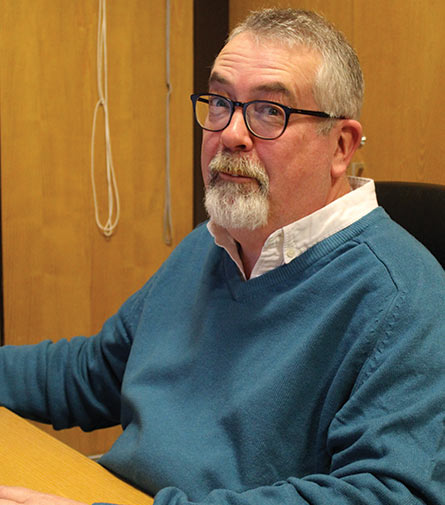 Mervyn Russell, Export Development Manager
In-vitro diagnostics (IVDs) are among the most common and widely used clinical tests that health care providers rely on to detect diseases or monitor a person's overall health. Since patients receive medical care based on the diagnostic results, the accuracy of these tests is crucial. That's why laboratories require best-in-class IVD tools and kits to ensure reliable outcomes. To this end, Fortress Diagnostics develops an extensive portfolio of clinical diagnostic tests from its ISO 13485:2016-accredited facility in the UK.
In an Interview with MD Tech Review, Mervyn Russell, Export Development Manager, Fortress Diagnostics, shares his insights on their cost-effective and high-quality diagnostics products and unparalleled customer service and technical support.
What were the factors that led to the inception of Fortress Diagnostics?
Our managing director, Dr Morteza Afrasiabi, comes from a laboratory background and was involved in a number of research and development projects during his PhD studies. One project was the development of a new test for measuring Erythropoietin, a hormone that the kidneys produce to stimulate the production and maintenance of crucial red blood cells. The test was sold on and commercialized. This was the "light-bulb" moment when Morteza saw a gap in the market for a company that can produce diagnostic tests.
In 2003, we started our journey in Dundonald Enterprise Park, with an initial staff of three. Over the years, we have grown exponentially and established a new building in The Technology Park, Antrim with around 50 members and a turnover of approximately £15 million.
We have a good source of skilled scientists coming through The University of Ulster and Queens University. In the past, the majority of these graduates were moving across to mainland Britain, in search of work, so it was nice to be able to offer this opportunity to these scientists in Northern Ireland.
What was the impact of the COVID pandemic on the IVD landscape, and how does it affect your company?
The COVID-19 pandemic has transformed the company. Traditionally our customers tend to panic-buy at the end of each year, meaning our first quarter is usually quite thin. This year was no different, and we were looking at a similarly slow start to the year.
As with every year, we attended the Medlab exhibition, in Dubai, at the end of January. At around this time, COVID was beginning to hit the news. We went on regardless, and as with most Europeans attending the show, we were very blasé, not wearing face-masks or socially distancing. This wasn't expected at the time. We did, however, notice a much lower attendance at the show and that more than the normal number of visitors were wearing face-masks.
This was our first realization that COVID was something more serious than we initially thought it was.

Through a number of discussions, at Medlab, we took it upon ourselves to start preparing for the potential outbreak of COVID-19 in Europe and started sourcing the materials needed to produce a test. Initially, we looked at ELISA-based tests for detecting Total Antibodies to COVID-19, and the IgM Antibodies associated with a fresh infection. We also started investigating the potential for antibody lateral flow tests (rapid tests), which allow for a much quicker turnaround time.

As the seriousness of the pandemic grew, the demand for rapid tests increased worldwide. At the same time, we submitted samples for testing to Imperial College, in London for their national seroprevalence study. Due to its high specificity and sensitivity, our test was selected as the "preferred test" amongst the submitted samples. The test is used to track infections, and we have rolled out 1 million tests to date. We are currently working on an order for the 5th phase of the study.

Please elaborate on the portfolio of the solutions that you deliver?

At Fortress, we produce a very wide range of diagnostic solutions that cover clinical chemistry, immunology, serology, coagulation and haematology. Our products are being used across many disciplines in hospitals and laboratories on a worldwide basis.

We are focused and committed to the advancement of the diagnostic industry. That's why we re-invest 30 percent of turnover into R&D and employ a highly skilled team of research scientists to innovate new and optimize existing products. To exceed customers' performance expectations, we stay current with the latest technologies and market trends to offer cutting-edge solutions to our distributors and end-users. Along with our high-quality products and competitive prices, our loyal and knowledgeable customer base played a crucial role in the success of Fortress Diagnostics.

Could you share a customer success story?

Recently, we worked with Imperial College, London, in the REACT program. The scientists at Imperial had to overcome numerous obstacles to get the test approved by the healthcare regulator, for use as a "Home Test". We helped them redesign the test pack to include the additional components needed to allow patients to perform the tests at home without any need for supervision. Moreover, we put together an instructional video to help patients use the test conveniently.

What are the factors that differentiate Fortress Diagnostics from other market players?

We always invest in the right people. From top management to the front-line people, everyone contributes to our success. We bring in leaders with the right attitude who can nurture new talents. Moreover, we promote a significant work culture and morale that empowers the workforce to involve in the success of the company. We ensure that everyone in the team feels proud of our success as we gain recognition, both locally and internationally.

Also, as we don't work directly with our end-users, it is crucial to find the right distribution partners, who understand our products to promote and support them efficiently. End-users never forget a problem, so it is very important that perceived problems are dealt with to a conclusion. We are fortunate to have distributors who are capable of finding the root cause of a problem and resolving this with our end-users.

We always receive feedback from our distributor partner on how well the end-users appreciate our products, and how Fortress makes a difference in their lives. For instance, recently, we received an email from one of our new distributors in Central Africa thanking us for selecting him as our distributor and highlighting the importance this has made for him and the 12 people he now employs.

What does the future look like for Fortress Diagnostics?

We have extensively increased our manufacturing and R&D capabilities this year amidst the COVID crisis. We have partnered with several university and academic institutions for developing innovative diagnostics solutions and build our recognition in overseas markets. Recently, we have worked with Nottingham University and the University of Cape Town to develop novel tests for lung cancer and Tuberculosis. Moreover, we are continually adding new members to our team and distribution network as the right distributor supports in expanding and retaining business globally.