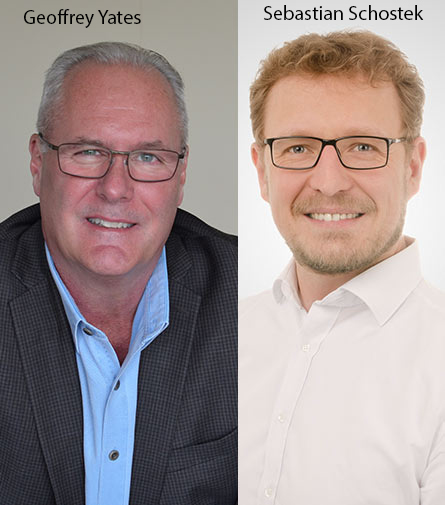 Geoffrey Yates, President & CCO and Sebastian Schostek, Vice President of Division Diagnostic Systems
The right diagnostic and therapeutic tools are key to critical medical decision-making and treatment. They can help health care professionals gain a better understanding of the symptoms, causes, and severity of different health conditions. To this end, Ovesco Endoscopy, a medical device company, delivers cutting edge solutions that cater to emergencies and elective procedures associated with gastrointestinal (GI) diseases and conditions. The company focuses on developing innovative devices, systems, and procedures for endoluminal surgery by involving the clinicians in the research phase.
In an interview with MD Tech Review, Sebastian Schostek, Vice President of Division Diagnostic Systems and Geoffrey Yates, President and CCO of Ovesco Endoscopy USA and the Americas, share their insights on how their technological and procedural development is helping fulfil clinical needs. The company offers advanced technologies and procedures that save patients from major surgeries and reduce hospital cost.
Could you give us an overview of Ovesco Endoscopy?
Sebastian: Established in 2002 in Tuebingen, Germany, Ovesco Endoscopy focuses on disruptive innovation in therapeutic and diagnostic solutions for GI diseases, especially for therapeutic endoscopy and endoluminal surgery. The journey started with new interventional devices and procedures around the OTSC clip. This endoscopic clip is now established as an indispensable tool for stopping bleeding, closing perforations and the treatment of fistulae in the GI tract. Through continuous research and development efforts, we have expanded our product portfolio towards new clinical indications and technologies including advanced resection techniques and diagnostic systems which are available across the globe.
Geoff: Our product offerings include FTRD, a full-thickness resection device platform, the OTSC family of closure and hemostatic devices, a group of accessories and grasping devices, and diagnostic tools to support various therapeutic GI procedures.
We have changed the way endoscopy is conducted and has grown steadily over the years to provide better clinical tools and technology and enhance patient care."
Our support team focuses on assisting and training physicians as well as their staffs. We have changed the way endoscopy is conducted and have grown steadily over the years to provide better clinical tools and technologies that enhance patient care.
Please elaborate on the features and functionalities of HemoPill acute, and how it helps physicians in their procedures?
Sebastian: We have developed HemoPill acute for providing a simple and quick way to detect acute gastrointestinal bleeding and thereby help physicians distinguish between patients that require an emergency management from those that would not benefit from an urgent endoscopy.
Gastrointestinal bleeding is the most frequent emergency in endoscopy units and is associated with a certain lethality. If patients arrive in the emergency room with clinical symptoms that raise the suspicion of an acute gastrointestinal bleeding, such as low blood pressure and increased heart rate, an endoscopic examination is usually conducted to identify and treat a possible bleeding source. Such endoscopies come with a high effort, especially on weekends, at night or in remote areas, when endoscopy is not readily available; and turned out to be negative in about two thirds of the cases.
HemoPill acute is a tiny battery-powered capsule, that is swallowed by the patient and provides a real-time response about whether blood is present in the GI tract or not. As a simple quick test, it can be performed by nurses and provides a simple yes-or-no feedback. As a result, caregivers can quickly identify and stratify patients who need immediate attention. HemoPill is proven to be effective in avoiding unnecessary endoscopies while ensuring appropriate attention to patients in critical condition. This is especially relevant during the current COVID scenario, as endoscopies in COVID patients expose the clinical staff to an increased risk of disease transmission. HemoPill acute can help reducing the risk of disease transmission and sparing sick patients from an additional burden associated with an endoscopic examination, while at the same time ensuring proper care in emergency situations.
With this new device, we provide a quick, easy, and cost-effective solution for real-time detection of gastrointestinal bleeding that complements our devices for bleeding treatment such as the OTSC clip very well.
What is the differentiating factor that sets you apart from the competition?

Geoff: The way we do our business sets us apart from other companies in the market. We are a clinically driven company. We support our procedures, devices, and innovation with data. We invest heavily in terms of resources and funding on training physicians and building a close relationship with them and their staffs. Our clients appreciate the effort we put into setting up regular training labs. Before releasing a product commercially as an example with the FTRD Set we thoroughly trained the physicians with a one-day mandatory Ovesco sponsored training program. For the first 3 to 5 procedures, our representatives guide and train their staffs about the technology and the products use.

Sebastian: As a private company we have an independent operating approach and we handle everything internally, from idea generation, R&D, production, distribution, to training clinicians. Additionally, we have a small team of executives that makes the decision-making process nimble and enable us to move fast.

Could you give us a customer success story?

Sebastian: Recently, a hospital in Germany used HemoPill in COVID patients. Two COVID confirmed patients were additionally presenting bleeding symptoms. An endoscopy examination is a high-risk procedure with regards to disease transmission. Our customers were able to confirm the imminent need for therapeutic endoscopy due to a present bleeding in one case, and could safely avoid an endoscopy in another case.

What does the future look like for Ovesco Endoscopy?

Geoff: We recently received FDA approval for the gastroduodenal FTRD Set and are now looking to obtain new regulatory filings and approvals globally with a strong focus on Brazil at time. We will continuously focus on rolling out our new products as we have added to the portfolio recently.

Sebastian: We are currently working on a device based on HemoPill that will be an implantable version. HemoPill provides real-time reading from inside the body. However, this device has a stationary place in the stomach and detects a bleeding in the GI tract of patients with an elevated risk profile. We aim to extend our diagnostic systems approach further, creating new applications and diagnostic capsules and systems for even diseases that are not clearly understood today. Similarly, we will continue to evolve our therapeutic devices based on the latest technologies and will continue to make new devices and procedures available. Moreover, we are continually expanding our team by adding unique talents to ensure our clients are supported all the way.