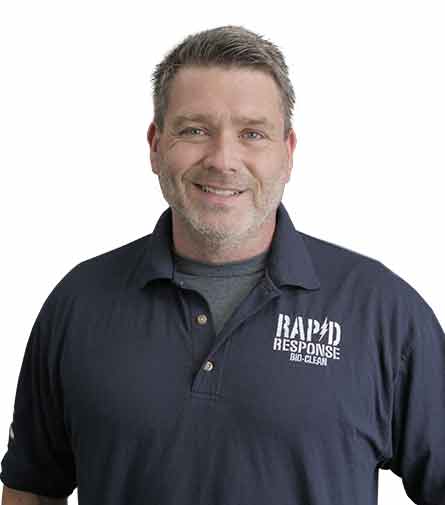 Lance Hamel, President
When one starts at the bottom and perseveres consistently toward set objectives, sky is the limit. Lance Hamel, the founder and president of Rapid Response Bio Clean (RRBC)—a biohazardous waste removal company— is the perfect example of such perseverance and dedication. Evidently, running a biohazard waste removal company can be quite the challenge. From unpredictable vehicular accidents to periodic disposal of medical waste, a wide array of recycling, remediation, and cleanup activities require a sense of discreteness and sensitivity. RRBC is an organization that testifies these traits while bringing in the much-needed recycling expertise to the table. The company's personalization of such services and recycling practices is what sets them apart from their competition.
"When we engage with our clients, some of the typical problems that they face is with the timely pickup/collection of medical waste. Some of the people that they previously worked with would just show up, pick up a box and leave, seldom accommodating special requests of any sort," begins Hamel. Hamel's words hint at one of the quintessential, but fundamental aspects pertaining to the medical waste collection processes. Often clients who require such services could be victims of unforeseen circumstances and traumatic incidents, requiring an empathetic approach to engagements and interactions. Specific requests, such as collecting the materials from a definitive location, could turn out to be an uphill challenge for medical organizations. RRBC optimizes the collection route for the periodic pick up of biohazardous materials. One of the company's recent engagements with a client involved such an enterprise, wherein the previous contractor tasked to pick up medical waste, failed to uphold the needs and requirements associated with the collection. RRBC worked with the client to deduce an efficient and fast-response route for the pickup of bio-waste while customizing its services to suit the client's necessities. The company's diligence and flexibility in accommodating such requests add a personal touch to medical waste management – a sector that often gets neglected for various reasons.
Actualizing the Needle Exchange Program
RRBC catalyzes noteworthy initiatives such as the Needle Exchange Program to guarantee the efficient orchestration of medical waste management and recycling. The company collects needles from drop-boxes placed around designated locations within the city and recycles the waste. The recycling process is complex and extremely thorough. First, a trained professional will take boxes of filled needles and put them into the process tank, upon which, the material and water are mixed together.
The machine heats up to an initial 270 degrees with a maintained temperature of 250 degrees throughout the entire sterilization process. Water and steam are used to push the medical waste through the grinder. Thereafter, the material is grinded into a confetti-like substance. Every particle is properly sterilized by continually rotating it through the grinder with steam and water. The water and waste are then pushed through a filter separator allowing the solids and liquids to be separated. Consequently, the liquids are released into a sanitary sewer, and solid waste is discarded like regular trash. But Hamel has taken it one step further.
The company's diligence and flexibility in accommodating such requests add a personal touch to medical waste management – a sector that often gets neglected for various reasons
A typical needle is made up of 5 materials. 4 types of plastics, and then the metal which is the actual needle. Hamel has begun to find a purpose for all these materials. The polypropylene is 90 % reusable. Currently, he has been able to make things such as cups and flowerpots. This recycling process involves many steps, sifting through the water to separate each of these different materials. Using saltwater stations and high-powered magnets for separation, every piece of metal is removed from these plastics. He has also recently started making moldings with the rubber, adding the material with a resin in a mold. He further plans to make tabletops and stool tops. These are just a few of the many commendable collaborations carried out by the company, which serves as a testament to its proficiencies in the upkeep of society. "It is easy just to burn the waste, and that is where we stand apart. We make sure that such disposables are reused in the most appropriate manner," says Hamel.
Numerous Sustainable and Recycling Practices
RRBC's recycling practices don't just stop with reusing plastic from needles. They are also responsible for dismantling most of the City of Portland's hazardous RVs. RRBC has made the practice of dismantling these RVs almost an art. When an RV first comes in, an asbestos report is done. Once the asbestos report is negative, the dismantling process begins. The oil, gas, antifreeze, brake fluid, power steering fluid, transmission fluid are all drained out and set aside for recycling. The battery is also recycled. The black and grey water tanks are emptied. The RV is cleaned, and all the excess debris is sifted through for hazardous materials. The top is removed. Most of the structure part is garbage and is disposed of. The chassis, motor, and transmission are all cut up and put into a metal box for recycling. This process virtually eliminates tons of waste that would otherwise just sit in a junkyard. RV recycling is just a further step in the commitment that RRBC has to make the environment a priority and recycling all that it can.
It is easy just to burn the waste, and that is where we stand apart. We make sure that such disposables are reused in the most appropriate manner
A Compassionate Approach to Crisis Management
RRBC upholds the motto "Always be prepared, so you don't have to be," which is indicative of the company's commitment to serving clients not only in the most effective manner possible but also with a sense of compassion and discreteness. The testimonies received by the company for such engagements speak for themselves. One of them reads, "There are no words of praise high enough for the kindness, consideration, and professionalism shown to us by Rapid Response Bio Clean. When a friend who was house-sitting experienced a medical emergency in our home, Rapid Response was there within one hour, taking care of everything and left us with such a feeling of relief and peace that it is hard to express our gratitude. Thank you, Rapid Response, for being there in the worst of times to help us recover and move on."
The company has embarked on numerous such initiatives, irrespective of the nature of bio-waste. In their initial days, RRBC carried out a fair share of cleaning services for homeless shelters, paving the way for the company's exponential growth. "In the early days of the company, we did a lot of work around the transportation of debris and biomatter, and that is when we saw the need to handle the disposal of waste on our own, instead of handing it over to someone else," says Hamel. Building upon this intuition, RRBC is currently waiting on its approval from the Drug Enforcement Administration (DEA) to serve as a reverse vendor for pharmaceutical disposal. This advancement enables the company to recycle materials that were thought to be non-recyclable in the industry. The secret sauce to this success lies in the company's thirst for innovation. By progressively investing in newer technological advancements and the training of its workforce, RRBC simplifies bio-waste management. Along similar lines, RRBC is developing composting toilets that could be distributed across homeless shelters, planning to increase the number of recyclable materials under its portfolio.
Another exemplary achievement accredited to RRBC is employing people with experienced homelessness, addiction, or criminal justice. Around 80 percent of its workforce possess what they call a "lived experience," and people working for the company appreciate the opportunity to become successful while contributing to a worthy cause. Comprehending these accomplishments, in addition to its competencies in handling bio-waste, it is safe to say that Rapid Response Bio Clean stands tall as the torchbearer of medical/biohazardous waste recycling and management.