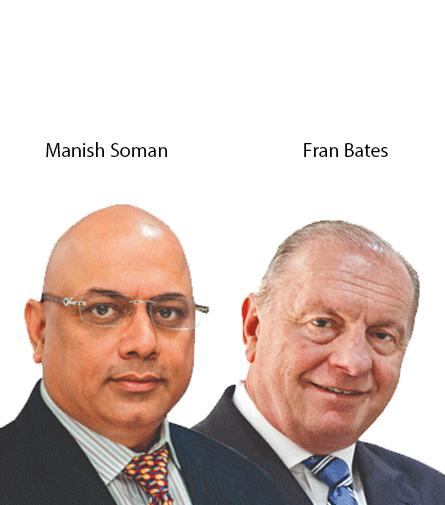 Manish Soman, President and CEO and Fran Bates, VP Technology Services
Sciformix has created a global cost and resource-optimized business model, affording them the flexibility and scalability to tap into a worldwide pool of talent with a diverse skill-set. The firm is a global service provider for the biopharmaceutical, generic pharmaceutical, consumer product, medical device and contract research industry in the areas of safety & risk management, regulatory affairs, clinical development, real world data & market access, and technology services.
In an interview with CIO Applications, Manish Soman, President and CEO and Fran Bates, VP of Technology Services of Sciformix share their insights on how Sciformix helps their customers stay ahead in the industry.
On the Company's history, ideologies, and motto.
Sciformix was established to fill a gap that traditional CROs and BPOs could not. As a 'specialized' service provider we provide a higher level of engagement, quality and value to our clients through thought leadership, deep domain knowledge, and technology innovation. We live and breathe our company's tagline—"Trusted Services. Build on Science." Our focus has always been on partnering and working closely with each client to build our service lines and competenices according to their needs, ensuring that clients achieve their goals, increase operational efficiencies and ensure consistent regulatory compliance. This is achieved via Sciformix' quality processes, specialized expertise and technology solutions. The result is that our clients can focus their time on research and development activities to advance new medical products and not worry about their day-to-day operations.
Give us a brief overview of the technology services offered by Sciformix.
One of the biggest challenges life sciences organizations face is how to effectively integrate the science behind all aspects of the product lifecycle with the technology know-how of IT. Lots of companies can do the technology side but do not have the functional expertise i.e. understanding how the system is used within a particular functional domain and what the regulatory expectations are, and vice versa.
An example of this is how we help organizations ensure that their products are of high quality, safe and effective, and comply with regulations via our deep domain knowledge and supporting technology infrastructure in Safety & Risk Management. By providing clients with an integrated safety technology solution, they can achieve superior efficiencies and transformation in their business processes. Currently, we are working on several initiatives to optimize the pharmacoviglance workflow and automate key areas to gain productivity, compliance and quality. By leveraging advanced technologies such as the Sciformix case processing assist tool (C-PAT), we can deliver automated data entry in case processing. These automation and transformation initiatives span clinical and post-marketing phases and include safety database management, medical contact center, case processing, medical review, signal detection and electronic regulatory submissions.
Our scientific and medical knowledge combined with our IT innovations is what sets us apart from our competitors
These integrated drug safety solutions help life science companies build a pharmacovigilance IT reference architecture, deploy signal detection applications and create enterprise portals for safety analytics. This allows for business intelligence, analytics, querying and reporting, validation and regulatory compliance. By facilitating innovation and continuous improvement across the entire drug product life cycle, we can help organizations to be more proactive in their ability to respond to problems and business needs.
Elaborate on the services that help you stay ahead in the industry.
Our 'Innovation and Analytics' group keeps track of new technological developments and assesses which solutions will provide the most benefit to our global customer base. This team works in conjunction with our software engineering division to develop new software and technology platforms that address specific transformational opportunities for our clients.
An example of this is our automated enterprise platform, SciPortal. This overarching architecture enables us to implement multiple enterprise solutions in a single application to solve customer problems. SciPortal lets clients track their processes, monitor metrics and extract meaningful reports, all in real time via phone, tablet or laptop. In addition, our knowledge management system helps us capture, share and reuse expert knowledge both across our internal organization and with our clients.
Our scientific and medical knowledge combined with our IT capabilities is what sets Sciformix apart from our competitors. We offer a full range of IT consulting, implementation, maintenance and support services, along with hosted software platforms in our validated data centers. As a service provider, our aim is to be proactive and develop technologies to deliver true value to customers.
Share with us a case study wherein Sciformix was instrumental in addressing a key challenge faced by a client?
A leading generic and branded specialty pharmaceutical medicines company with more than 200 global prescription drug product applications needed to rethink their safety technology and operations strategy and practices.
Very typical in today's environment with mergers and acquisitions of product porfolios, the client had its pharmacovigilance operations split between two separate service providers. One provider supported their case processing activities, database hosting and aggregate reporting requirements, while the other managed their medical information and contact center operations. The complex and inefficient nature of the arrangement led the client to rethink their need for a more seamless and integrated approach. They sought another vendor who could seamlessly implement and manage an end-to-end solution.
Sciformix' end-to-end safety solution included the expertise of medical information, a contact center, case processing, aggregate reporting, signal management and risk management that the client was looking for. In addition, our off-shore model was cost-effective, alleviating the need for on-site IT related infrastructure and headcount loss.
Implementation and transition from the previous database was successful due to our rigorous project planning, and program management capabilities, focus on quality, and detailed process monitoring. The client's safety database was transitioned to the Sciformix' Argus Safety Cloud solution, which enabled the following client benefits:
• Scalable, in-house, cloud based safety database
• Cost savings via a single vendor strategy
• Operational cost advantage employing an off-shore model
• Ongoing process improvements
• Futureproof technology infrastructure
On the future for Sciformix.
Sciformix' long-term strategy will continue to focus on evolving and enhancing our service and technology offerings, broadening our global reach and growing and diversifying our client and revenue base. This is visible in the recent launch of several cloud based safety technology service offerings and our expansion into Europe with a new call center operation in Romania. Sciformix is also looking to penetrate underserved markets in Asia Pacific such as South Korea and Taiwan. In addition, the biosimilars market is expected to grow to $20B by 2020 and companies will need our support to enter both established and emerging markets. Sciformix is looking at this market astutely as an area of growth and further expansion.